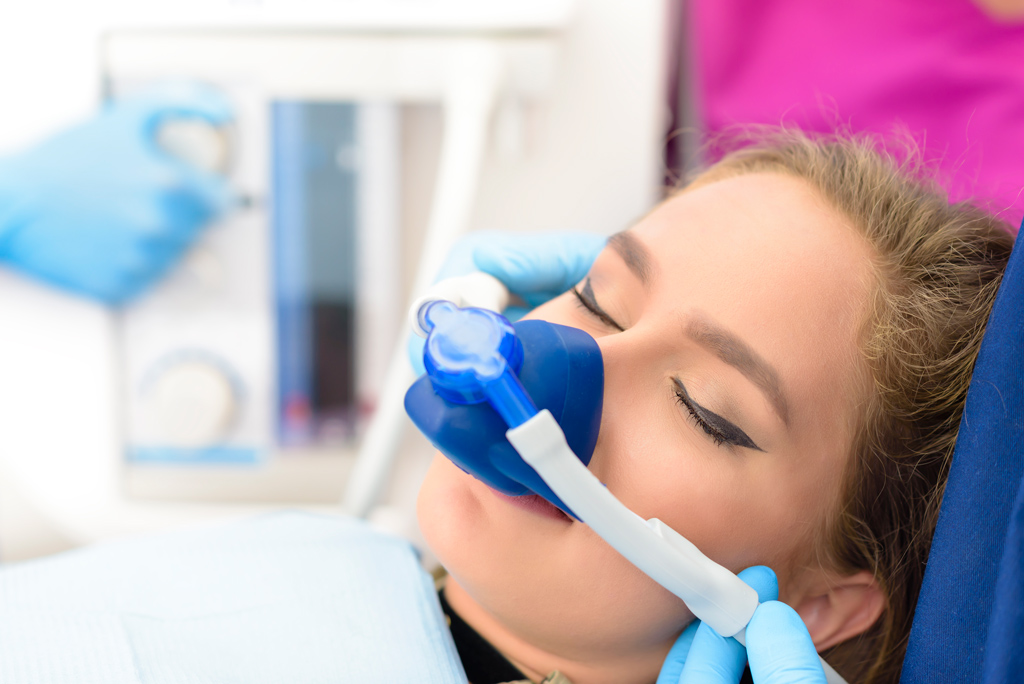 Sedation and Sleep Dentistry
Sedation is used to manage anxiety when visiting the dentist. Depending on the severity of your anxiety and the type of procedure you need, your dentist will recommend a specific level of sedation which best fits your needs. The Dental Club offers three different types of sedation.
Oral sedation
Nitrous sedation
IV sedation
When suitable, your dentist can prescribe safe anti-anxiety medications, such as diazepam (Valium) to be taken one hour before your dental appointment.
As the medication may make you drowsy, you will need to be accompanied by an adult to take you to and from your appointment as well as to watch over you after you've taken the medication.
Nitrous oxide, commonly known as 'happy gas', helps you relax during your dental procedure. This gas is administered through a small mask that is fitted over your nose..
Once administered, you will be conscious and able to respond to your dentist both calmly and comfortably.
Nitrous sedation is offered at our Griffin clinic. You can drive home after as the effect of the gas wears off quickly once the mask is removed.
It is a good option for treating children and adults with mild anxiety.
Intravenous (IV) sedation involves the use of a sedative administered by a qualified visiting anaesthetist.
During the dental procedure, you will be in a 'sleep-like' state but not unconscious like under a general anaesthetic. As such, IV sedation is often referred to as 'sleep dentistry' as patients feel very relaxed and don't remember much of their dental treatment.
This service is offered at our Griffin clinic. You will need to be accompanied by an adult to take you home from your appointment.
It is a good option for adults with moderate-severe anxiety.
Unfortunately it is not possible for patients with certain medical conditions, or those who fail to meet specific weight or respiratory criteria
FAQs
Which option is best for me?
This depends on the type of dental treatment you need as well as various other factors such as cost and urgency. Your dentist will be able to advise your best option for your situation.
Who needs sedation dentistry?
You may want to consider sedation dentistry if you:
Have a deep-rooted phobia of the dentist resulting in anxiety or panic attacks
Are afraid of needles
Have difficulty getting numb from anaesthesia
Gag easily
Have very sensitive teeth and gums
Are there side effects related to sedation?
You may experience some minor side effects, including:
A dry mouth after the procedure
A very brief period of amnesia upon waking up
Headache or nausea
Grogginess (this is usually the most common symptom)
What if none of these options are suitable for me?
If none of these options suits your needs – there is a possibility that dental treatment under general anaesthetics may be what's required in managing your case. Although The Dental Club does not offer general anaesthetic services on a regular basis, we are more than happy to refer you on to someone who will be able to best manage your dental needs.