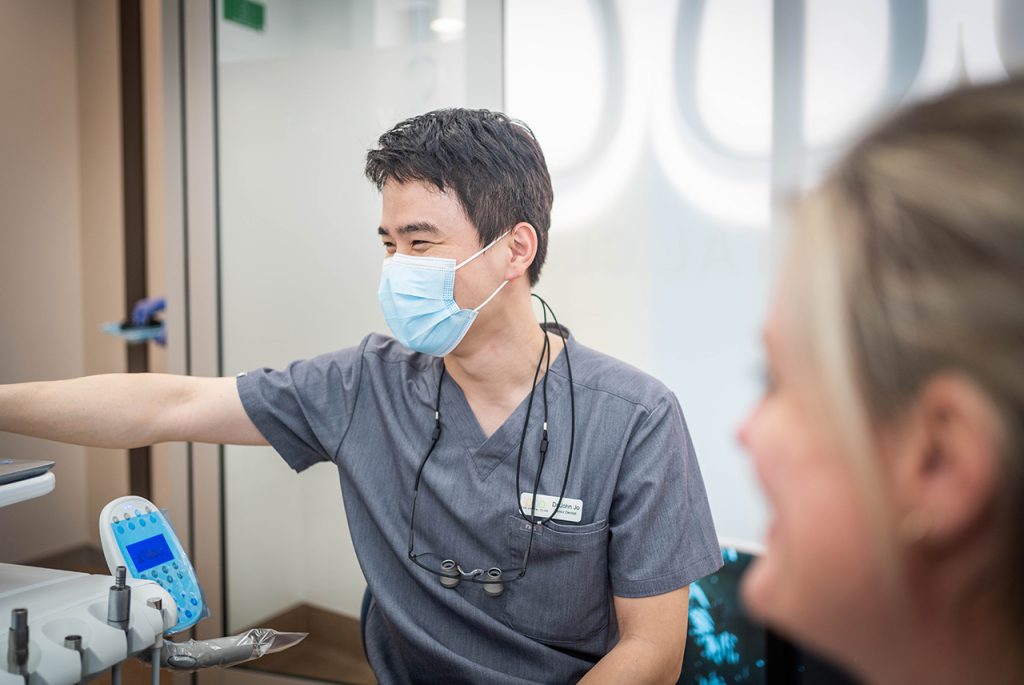 Checkup and Cleans
The most important step in maintaining/improving/full mouth makeover one's oral health, is to know what state your mouth is in. This starts with a checkup and clean.
During this visit, one of our friendly dentists will:
perform a thorough examination of your teeth and gums
Take photos and x-rays
Provide oral hygiene recommendations
Create a tailored treatment plan to address your dental needs
FAQs
Do I need to see the dentist twice a year?
Yes, this is true. FACT: Most health funds cover checkup and cleans twice a year and it is strongly recommended for all patients to do so by the ADA. There are 2 main reasons for this.
Firstly, studies have shown that even in the most stringent brusher and flosser, almost 2 weeks after a thorough clean by a dentist – calculus (hardened plaque) starts building up rapidly around our teeth. This cannot be removed at home, no matter how well you clean your teeth, and needs to be regularly removed to promote good gum health. In fact, in some people with gum disease, this may need to be done even more regularly!
Secondly, various dental issues tend to develop rapidly, well within a 6 month period. It has been found that holes can develop and worsen significantly giving you trouble even within this short period of time. By detecting and catching these things early, treatments tend to be easier than it would otherwise be. Remember – prevention is DEFINITELY better than the cure!
My dentist recommends X-rays at my checkups. Do I really need them?
All dental issues, be it tooth cavities, gums disease and infections tend to have a better outcome when detected very early on; which can only be done on X-rays. Typically, by the time dentists can visualize a problem in the mouth, it is likely more advanced and requires more complex treatment to solve it (such as teeth needing root canal treatments or extractions instead of fillings!)
Unfortunately, as much as dentists hope they can detect every single dental problem purely by looking at your teeth, they aren't superheroes with X-ray vision and they know it..
I don't like having cleans done – do I really need them?
Next time, after you have a meal, scratch the surface of your tooth gently and see what comes off.
This is dental plaque, a layer of food debris and bacteria which is responsible for most dental problems such as tooth cavities and gum disease. Even in a person with the most perfect brushing skills, this plaque eventually hardens into a thick, hardened layer known as tartar or calculus. Unfortunately, no matter how hard you brush/floss, or how much mouthwash you rinse, nothing can prevent this layer from developing around your teeth. It is the job of your dentist to help remove this layer at your regular checkups and help prevent them from building up too quickly through little tips and tricks.
Now, we know that having a clean may not be the most pleasant experience – so please if you do have any concerns about the process, please let your dentists know as there are various options or little things they can do to make the experience more pleasant for you.
I'm terrified of seeing a dentist! What should I do?
It's important to know you're not alone! Dentophobia – the fear of seeing a dentist, is one of the most common fears in the world, affecting more than 26% of people. That's one in every 4 people that walks through our doors!
Our number one tip, if this describes you, is to have a chat with our friendly receptionists over the phone or face to face about your concerns. Our lovely staff will talk to you about what to expect and inform our dentists about any needs or worries you may have. Know that there have been various advances in dentistry – particularly in the area of sedation and sleep dentistry. These optional tools aim to make your appointments more pleasant and we can discuss your options if you are interested.
Finally, it is important to realize that you are in absolute control of your visits and that we will accommodate visits to be done at your own pace. A lot of people feel pressured that they need to get in the chair, get the dental work done right away cause everyone else does it that way. This just puts unrealistic pressure on themselves when they come in. Everybody is different and it's important you feel comfortable through the whole process, in your own time, in your own way.
How much is a checkup and clean?
Here at the Dental Club, we offer a variety of specials to help everyone better their oral health. Check out our services today!